'27 dresses' though predictable, is dressed for success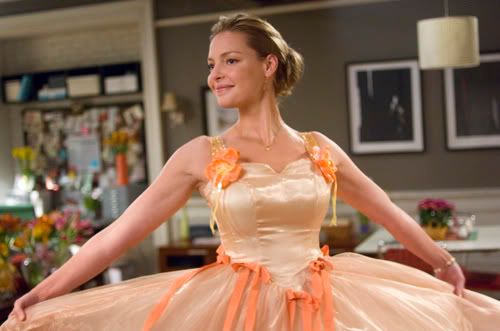 *Courtesy of Barry Wetcher, Twentieth Century Film Corporation
Once you've seen one romantic comedy, you feel like you've seen them all. There's always a girl that wants one guy, but secretly wants another, and along the way she is faced with forks in the road that are meant to help her decide which path to take. It's highly typical, we've all seen it before, and we somehow continue to pay an unseen amount of money for a movie ticket to go see it again.
"27 Dresses," directed by Anne Fletcher, stars Katherine Heigl as the perpetual bridesmaid, Jane Nichols, who doesn't know the meaning of the word "no." She is the epitome of a doormat when it comes to brides-to-be asking for her help in planning the most important day of their lives. We've heard of good Samaritans, but how can a self-respecting woman agree 27 times to be a bride's gopher?
Following last summer's hit, "Knocked Up," Heigl didn't seem to reign supreme without her artificial pregnant stomach. Her ability to pull off sarcasm aside, Heigl's performance in this film fell too short from top honors. How fitting that the film was about a bridesmaid-and not a bride.
Jane is not just a lonely woman in love with her tall, dark and handsome boss George, (Edward Burns), but she doesn't have the courage to tell him how she really feels. However, she is openly in love with weddings. She loves them so much that at eight-years-old she discovered her purpose in life was to help women on their special day. This is right about the time in the movie where you burst out laughing and call her character a freak.
Jane lives in a fantasy world, thinking that one day in the extremely distant future George will come to realize that she is the only one for him. She does slightly pitiful things, like leaving a breakfast burrito on his desk, just in case he's hungry. Her bubble bursts like a bomb when George meets her perfect little sister Tess, played by Malin Akerman, of "The Heartbreak Kid," and, as in any typical romantic comedy, falls in love with her. Cue the music, Jane's life is over!
To add to the pain of planning her sister's wedding to the man of her dreams, Kevin Doyle, played by James Marsden, a sarcastic and adorable reporter for the commitments section, which covers weddings, seems to pop up at just the right moments to annoy Jane. Kevin's latest assignment, the upcoming nuptials of George and Tess, has him discover a potential story: Jane's bridesmaid history. He continues to hang around Jane without her knowing his true intentions, which ultimately results in an all character encompassing conflict. Besides the flirtatious bickering between Jane and Kevin, there are moments where the sarcasm and wit make the scenes actually funny.
One of the more refreshing characters that keeps the sarcasm and humor alive is Judy Greer's character, Casey, Jane's blunt coworker who likes to tell it like it is. From the beginning of the film, Casey is shown to be the "anti-Jane." A woman who loves her alcohol and having her bridesmaid dress ripped by groomsmen. Casey not only makes you laugh but also reminds you not to make any woman like her as one of your bridesmaids.
With the format of a traditional romantic comedy aside, the screenplay, written by Aline Brosh McKenna, has its humorous moments. From Casey's witty one-liners to Jane's unfiltered responses, the script deserves a nod for getting it right. If the screenplay's aim was to follow the guidelines of a romantic comedy, to provoke a few sexual innuendos and to pretty much leave us wondering where we've seen a storyline like that before, then it hit the ball right out of the park. As the film closes in on the pivotal scene where Jane must choose which path she wants to take, how do you think it will end? Will it leave us saying, "Well I predicted that from seeing the trailer," or will we be surprised to see romantic comedies taking a whole new turn? Your guess is as good as mine.