'The Color Purple' musical inspires with message of faith, love and beauty
Those who remember assigned reading in their high school English classes might groan when somebody mentions "The Color Purple," but if you took the time to read it, you realized what an invigorating book it really is. Now, "The Color Purple" has been brought to life in a vibrant musical about love. "The Color Purple" is drawing huge crowds and major buzz for its acclaimed cast and inspirational message – no groaning required.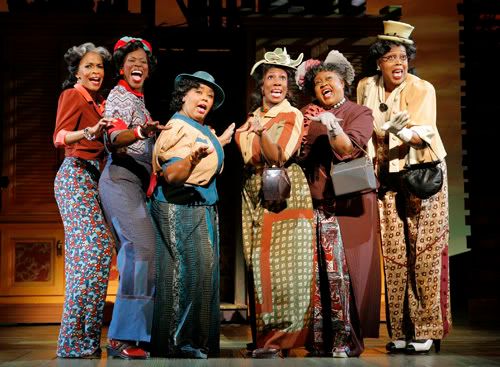 *Courtesy of Paul Kolnik, Center Theatre Group
The musical, which is based on the novel of the same title by Alice Walker, is a heartwarming story of a young black woman's difficult life, and her spiritual journey towards realizing the good that has come out of her struggles.
The protagonist of the play is Celie, played by Jeannette Bayardelle, lives with her sister Nettie and her sexually abusive father. The play begins against a dramatic yellow and orange sunset, as the silhouette of two young girls play on a small bridge.
Soon after, we see the colorful "church ladies" appear from the edge of the stage, beginning to sing about Sunday's upcoming worship.
A pregnant and miserable looking Celie sits in a pew with her father and sister and at the end of the sermon, Celie runs out of the church screaming, about to deliver her second child. Her father (who is also the father of Celie's child), takes away Celie's newborn once again.
After all of that, Celie is sent to live with "Mister," a violent, brute of a man with a clan of unruly children. Celie's sister Nettie runs away from home, and goes to Africa as a missionary. Because Mister hid letters from Nettie, Celie believes her beloved sister is dead, so she lives the next few years of her life in a deep depression. Her faith in God wavers, and she questions the meaning of her life.
Celie's unhappy life with Mister continues, until Sofia, a hefty woman of unusual strength and attitude is introduced. Sofia is Harpo's wife, who is Mister's eldest son. Her catch phrase is always "Hell no!" and she's the type of woman that lets her presence be known.
Sofia, played by Felicia P. Fields, will no doubt impress you with her incredible voice and charismatic energy. The audience will leave feeling empowered by her character, who stands out in extreme contrast to the timid Celie.
Eventually, the sensual talk of the town, Shug Avery, shows up. Avery, played by the lithe Michelle Williams of Destiny's Child, steals the show with her sultry looks and powerful voice.
The entire town lusts after Shug, and with a strong desire for lovin', she seduces the audience with her bump-and-grind dance moves and overt sexuality. Eventually, even the meek Celie falls for Shug's outspoken ways and Celie begins to transform into a new woman as her encounters with Shug become more frequent.
Sofia and Shug end up being the main inspiration behind Celie's change, and as the play moves on, Celie slowly becomes her own woman.
"The Color Purple" stands out from other Broadway style musicals because it doesn't rely on scenery to carry its plot. The scenery throughout the show is always simple, which keeps the main focus of the audience on the phenomenal acting and singing.
Every cast member of the show has a truly outstanding voice, ranging from big and booming to light and airy. When paired with the complex dance routines of several acts, it's easy to see why "The Color Purple" has been attracting so much attention.
In the act "Push da button," the saucy Shug Avery demonstrates to Celie the importance of enjoyable sexual relations. Taking place in Harpo's juke joint, the entire town jives to Shug's electrifying song. The whole cast shakes, wiggles and grinds, and this scene nicely sums up the highly sexual nature of the whole play.
The overall message of the play is based on loving yourself for who you are. Celie has to overcome countless hardships to be happy in her life, and she grew up a poor, black woman in the South constantly being told that she was ugly. Shug Avery finally sings to Celie that she is "too beautiful for words," and Celie finally begins to realize that what's on the inside is what matters. The cast is filled with women of varying size and stature, and all of them shine through their incredible voices, beauty and presence.
After surviving numerous rapes, beatings and an unhappy, forced marriage, Celie lost faith in herself and her God. It took two new friends for Celie to realize the importance of her life, and the beauty of the color purple.
"The Color Purple," is a feel-good musical, and delivers a flawless message of faith, acceptance and love. It will be at the Ahmanson Theatre until March 9. For more information, log on to www.colorpurple.com.