The CSUN men's volleyball team brought the brooms up north this past weekend.
The Matadors took both matches against the Pacific Tigers and the Stanford Cardinal. In a repeat of the Matadors' performance when they hosted both teams back in January, it took a total of six games to accomplish the feat.
"The two games went pretty well," said senior outside hitter Isaac Kneubuhl. "For the most part, we rolled through them pretty easy."
The wins also helped with the team's ranking, moving CSUN from the sixth spot to a number four ranking.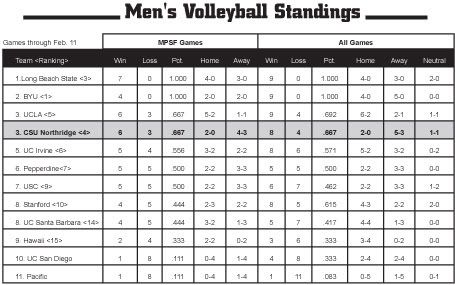 CSUN started out by sweeping the Tigers by scores of 30-21, 30-18 and 30-20 Friday night. No player on either team reached double digits in kills.
Kneubuhl and sophomore middle blocker Kevin McKniff led the Matadors with nine kills apiece and senior setter Travis Bluemling had 28 set assists. The Tigers also had two players who combined for 18 kills, as outside hitters, sophomore Clay Ostrander and senior Pekka Seppanen also had nine apiece. Freshman setter Tyler D'Egidio had 14 set assists.
The win in Stockton marked the first time in three seasons that the Matadors triumphed at the Alex G. Spanos Center.
"It feels great," Kneubuhl said of finally winning at Pacific. "The closest we've gotten was a five-game match two years ago and it's just nice to get that monkey off your back."
Twenty-four hours later, the Matadors took the floor at Burnham Pavilion at Stanford University for a matchup with the ninth-ranked Cardinal. The first two games belonged to the Matadors, as they won both games by 30-19 and 30-18. Stanford did show some life in game three, but CSUN still came out on top, winning the third game 30-27 to take the match.
"In the third game, they had their setter (Kawika Shoji) hit outside and with that lineup, they did a little better," Kneubuhl said. "They did push us, especially at the end, but we served tough and that really helped us win that third set."
CSUN was led by Bluemlig's 30 set assists, freshman middle blocker Cody Loe's 14 kills and junior outside hitter Eric Vance's 12 kills. Loe's 14 kills came on 20 swings, giving a .600 hitting percentage on Saturday night. The difference, however, for the Matadors was its blocking, as it out-blocked Stanford 20-6. Kneubuhl credits CSUN's serving for allowing them to pile up so many blocks.
"If you serve tough and they can't pass well, then you know where the set is going to go and you can get a good solid block, and that's what we were doing," Kneubuhl said.
CSUN's two wins vault them into a tie for third place with UCLA in the Mountain Pacific Sports Federation, with both teams 6-3 in conference play.
The Matadors will take a break from conference play this weekend, as they head up to Chicago for two matches, starting with Loyola-Chicago on Friday followed by Lewis College the next day.