Northridge wins 2 of 5 in Houston tournament
The Cal State Northridge women's softball team closed out its preseason tournament schedule with two wins and three losses at the three-day Houston Marriott Classic at the University of Houston over the weekend.
The Matadors opened play on Friday with a loss to Boston University, 3-0, and to their 16th-ranked hosts, the Houston Cougars, 3-1. On Saturday CSUN collected two wins, against Texas State, 4-1, and Centenary College, 8-7. The last game turned out to be one to forget, with the University of Kansas run-ruling the Matadors in a five-inning, 10-2 beating.
"We didn't catch well and we didn't hit well," said head coach Barbara Jordan. "That equation doesn't add up to winning games."
Junior Amanda Peek certainly hit the ball well, though. Peek hit .500 for the tournament for the second tournament in a row.
"She's doing a nice job," Jordan said. "She leads by example on the field."
Sophomore Amanda Pitzenberger said CSUN had the ability to beat all the teams it faced.
"We played hard. We never gave up, but the outcome wasn't as expected," Pitzenberger said.
On Friday, Pitzenberger took the circle for her first start of the season, throwing for 5.1 innings, while giving up three hits and one run. The Matadors were only able to get two hits in the game, with freshman Tracy Allen and junior Micah Putnam both connecting. Putnam also got on base with a walk.
Boston junior Christy Leath hit a RBI to score freshman April Setterlund in the fifth inning. Later, Melissa Dubay hit a two-run homer to give Boston the 3-0 lead.
For the Terriers first game of the season, Cassidi Hardy threw the shutout, with seven strikeouts, while surrendering two hits and walking two. Pitzenberger took the loss for CSUN.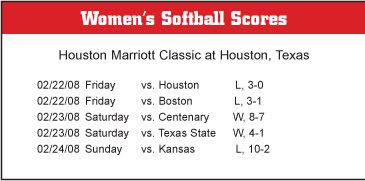 In the Matadors' second game of the day, Houston jumped out to a 2-0 lead after Elaina Nordstrom and Jennifer Klinkert hit back-to-back homeruns in the first inning. The Cougars junior Haley Valis hit a homerun in the third inning, making the score 3-0.
Northridge got on the board in the sixth, when Allen hit her second homerun of the season. It would be CSUN's only run of the game, despite getting five hits.
Senior Mercedes Lovato went the full six innings for the Matadors, striking out three, while giving up seven hits and walking four.
For Houston, Angel Shamblin struck out 12 and collected the win. Shamblin gave up five hits and just one run.
On Saturday morning, Pitzenberger got the start for CSUN against Texas State. Northridge scored two in the first inning, taking an early 2-0 lead. Allen and freshman Kristen Mihm both got hits, and junior Amanda Peek walked to lead the bases. Junior Micah Putnam walked, bringing home Allen, then Mihm scored on a foul-out by sophomore Christina Saenz.
In the third inning, sophomore Alexandria Alvarado hit a double, then scored on a RBI single by Peek, giving CSUN the 3-0 lead.
Texas State scored in the fifth after Ashton Peters hit a double, then scored on a RBI single by Taylor Hall.
Alvarado scored again in the sixth, after reaching base on a walk and advancing to second when Putnam walked. A RBI fielder's choice from Saenz brought Alvarado around for the 4-1 final score.
Pitzenberger threw for five innings, giving up just two hits to get the win. Lovato pitched two innings of relief without giving up any hits or runs. Ragan Blake took the loss for Texas State, after pitching 5.1 innings and surrendering four runs.
The Matadors' second game of the day didn't look good after Centenary took a 4-0 lead on a grand slam by Lauren Flowers in the first inning. But, the Matadors went to work and Peek hit her first homerun of the season, getting CSUN on the board in the second inning.
Centenary scored two more in the third, bringing the score to 6-1. Haley Bassett singled, but was put out at second, when Brittany Williams reached first on a fielder's choice. Bonnie Matak came in to run for Williams and advanced to second on a passed ball, then scored on a grounder by Allison McClain. Flowers singled and scored on a grounder by Beth Krysiak.
Again, it was Peek who got things moving, this time with a single in the fourth. Putnam hit a double, advancing Peek to third and Saenz scored Peek on a RBI fielder's choice. Freshman Krystal Raphael hit a RBI single to bring Putnam to the plate, closing the gap to 6-3.
In the fifth, junior Karen Fraggi hit a single, but was out when Alvarado reached base on a fielder's choice. Peek scored Alvarado on a double. With two out, Putnam stepped up to the plate and hit her second homerun of the season to tie the game.
In the sixth, sophomore Jaclyn Rymer reached first on an error and advanced to second on a sacrifice bunt by Pitzenberger. Senior Jackie Duree came in to pinch hit and did the job with a double that scored Rymer. Duree came home on a wild pitch to give Northridge a 2-run lead at 8-6.
Centenary threatened to take the lead back in the seventh. After Cavarra hit a single, the Matadors got two outs. Wiedemn came in to pinch hit and singled, followed by McClain, who also singled, loading the bases. Flowers hit a RBI single, scoring Cavarra and cutting the lead 8-7. With bases loaded, Krysiak popped up, ending the game.
In the Matadors' final game of the tournament, the first inning proved to be too costly for CSUN to overcome. The University of Kansas scored nine runs on eight hits and the Matadors used three pitchers to get out of the inning.
Pitzenberger started the game, but was pulled after the first three batters. Dougie McCaulley singled, Betsy Wilson doubled and Val Chapple singled to score McCaulley, giving Kansas a 1-0 lead. Lovato entered the circle and the next batter, Elle Pottorf reached on a fielder's choice. Lovato gave up six earned runs and five hits before being replaced by senior Samantha Schroeder, who was able to stop the bleeding and get CSUN out of the inning.
Allen hit a single to get on base and advanced to third on a double by Duree. Peek hit a fly ball to left field, scoring Allen for a 9-1 score after one inning.
Kansas and CSUN both scored a run in the third. Duree walked for the Matadors, advancing on Alvarado's ground-out and scoring on Peek's single to left-center.
With a 10-2 lead, the run-rule applied and the game was over after five innings. Schroeder pitched 4.2 innings and gave up one run. For Kansas, Valerie George got the win for three innings of work.
The Matadors are now 5-10 for the season.
"We have 10 losses and we probably beat ourselves in seven of them," Jordan said.
The Matadors believe their team is getting better and the preseason tournaments have helped to put focus on areas that need work, Pitzenberger said.
Sophomore Christina Saenz said the team's record doesn't show its capabilities.
"Once we fine-tune, we will be unstoppable," Saenz said. "We have a very talented team this year."
Lovato said the team plays with a lot of intensity and fight.
"We're in the game the whole time," Lovato said. "When we get the components together, we can do great."
After three weeks of being on the road, the Matadors begin a five-game homestand, starting Friday.
"We're very excited to be at home," Jordan said. "We hope to get some momentum going."
On Friday the Matadors will play an exhibition match against the Canadian Olympic Team at 1:30. CSUN takes on St. John's University (NY) for a double-header at noon on Saturday, followed by a double-header at noon on Sunday against St. Mary's College. Both double-headers start at noon and all games will be played at Matador Diamond.