There is a very distinct difference between going to see a show for the purpose of entertainment and going to see a show for the purpose of having seen the show.
Going to a live performance of any musical artist could be considered a form of entertainment, but when you walk out of the venue with a retrieved and elevated sense of musical appreciation, you were more than just entertained; you were changed, for better or for worse.
Last Tuesday, the well-knownalternative rap-rock group Linkin Park played at Staples Center. They were accompanied by Coheed and Cambria and the relatively unknown band, Chiodos.
These are all bands that belong in their respective circles and have earned their keep as well-known entertainment purveyors. However, this was not a show that was meant to enlighten or uplift; rather this was a show that was strictly for entertainment purposes, and based on that characteristic, the show was a success.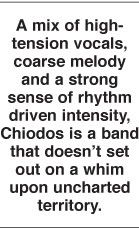 The show began with some kind words and sentiment from Craig Owens, the lead singer of Chiodos. In a somewhat articulated nutshell, Owens conveyed to the crowd that he had hoped that everyone was having a goodnight and that we were all there for one vital purpose, to have a good time. Immediately, after Owens' string of comments, they dove head first into their set, which included songs from their third release, "Bone Palace Ballet."
A mix of high-tension vocals, coarse melody and a strong sense of rhythm driven intensity, Chiodos is a band that doesn't set out on a whim upon uncharted territory but rather seek to outline and better clarify a musical sound that most KROQ listeners would be very familiar with.
The band itself consists of Owens on vocals, Bradley Bell on keyboards, Pat McManaman and Jason Hale on guitar, Matt Goddard on rhythm guitar and Derrick Frost on drums. Despite the fact that the band is made up of the traditional musicians, their on-stage dynamic and vitality of sound made it seem otherwise.
A few key attributes to the music that Chiodos plays are the fierce sounds of distortion and desperate screams that inevitably lead into an accompanying set of overly melodic chords that should make each listener question the source of underlying discontent and angst that seems to embody the music.
They played several songs that were moderately similar in sound and texture, and therefore equally as enjoyable. All in all, Chiodos was the most entertaining band of the night for the mere fact of novelty. I had yet to hear anything from this rambunctious group of music makers and in all honesty they have definitive potential.
There was no warning or word of caution before Coheed and Cambria took the stage. But after the initial sounds of piercing guitar and soaring vocals subsided, I got the impression that there was no need for warning.
Coheed and Cambria are one of the premiere groups of the new millennium in that their themes and composition capability are diverse in nature and therefor appealing to most people. It is in the live performance that they seem to fall short of glory.
Any band can play what they have created to willing listeners and get away with it. The finest of the music makers will do their best to give the audience their monies worth and alter, even in the slightest, the music that they play day-in and day-out. Coheed and Cambria, however, seem comfortable with exploiting the sound of the niche that they have put themselves in.
They played a few of their better-known compositions like "Delirium Trigger" and "In Keeping Secrets of Silent Earth 3," but seemed lacking in the resolve or the harmonizing intensity that Coheed is so well-known for.
Linkin Park's performance was neither bad nor good, it was entertainment. They played the songs that they most likely played the night before with their own brand of passion.
While the band was holding the note of the first song, Mike Shinoda and Chester Bennington grabbed their respective microphones and began by thanking the crowd for showing up and thanked the bands for playing on their tour.
As they slowly crept into the first eerie melody of "What I've Done" the crowd began to scream and drums kicked in. The crowd was on its feet and they began their stainless hour-and-a-half performance.
All songs were executed well and in a timely manner. Many of the songs that Linkin Park are notable for were played that night, songs such as "Numb" and "Crawling."
For a band with such a strong fan base and well documented history like Linkin Park, it is not about how you play the music, but rather what music you played. In that respect, they put on a very enjoyable performance.
As the night came to an end and Linkin Park was in the middle of their last encore, a lingering rendition of "faint," I got the distinct impression that all the musicians that played that night weren't trying to change or create anything new, but rather they intended to entertain.
These were bands that were doing what they could with what they had, nothing more and nothing less.