'Charlie Bartlett,' though filled with impressive cast, falls flat
Among the many film genres that have been successful in drawing audiences year after year, the category that seems to have the most sticking power is the teen-movie, or high school-drama. One more film can be added to this extensive list: Charlie Bartlett, by first-time director Jon Poll.
Poll, who has worked for years as an editor and whose credits include the "Austin Powers" series and "Meet The Parents," made his directorial debut with "Charlie Bartlett," released February 22. The narrative for the film is the creation of screenwriter Gustin Nash.
The film is about a wealthy teen named Charlie Bartlett (Anton Yelchin), who has been kicked out of his prestigious private school for selling fake I.D.s to students. His mother, Marilyn Bartlett (Hope Davis), sends him to the local public school, where Charlie has a hard time fitting in – at first.
Charlie goes on to win over his new classmates through unusual means. He sells them prescription drugs that he gets from his family psychiatrist, and holds one-on-one therapy sessions in a bathroom stall for anyone in need of counseling.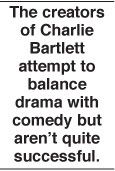 The subject of the movie is a timely one. This film (like many before it) seeks to comment on the mental, emotional and social stresses that teenagers deal with, but goes a step further by examining the widespread use of prescription drugs by teens.
In one memorable scene, Charlie is prescribed Ritalin by his family therapist after his mother comments on his lack of focus. Yelchin gives a high-energy performance as Charlie becomes increasingly manic and hyper after taking the drug for a week. The scene culminates in Charlie playing piano in the middle of the night and running outside in his underwear, yelling at the top of his lungs.
Charlie eventually connects with his peers by dishing out sound advice along with pills like Prozac and Xanax.
The turning point in the movie occurs when one student that Charlie has been dispensing pills to attempts suicide. Until this scene, the therapy sessions and drug-deals seemed humorous and lighthearted, but afterwards the audience is brought down to earth as this serious issue is treated with more gravity.
The creators of Charlie Bartlett attempt to balance drama with comedy but aren't quite successful. There are honest moments within the film, but too many clich'eacute;s and superficial themes make it hard for the movie to be truly original.
As with every other teen-movie, all the usual characters are rolled out: the school bully (Tyler Hilton), the love interest (Kat Dennings), the geek (Kip Cromwell) and the cheerleader (Megan Park).
The audience is also expected to believe that bullied students can make friends with their tormentors, and a few words of understanding is all it takes to overcome anxiety and depression.
If the creators had avoided this type of simplistic treatment of the issues within the film, Charlie Bartlett may have been a great movie – but as it is, it's merely entertaining.
Some strong performances and interesting subject matter make Charlie Bartlett a contender in the lineup of movies out right now, but be prepared for a film that struggles to find its footing amid a hefty topic.