After a political scandal, spouses should speak up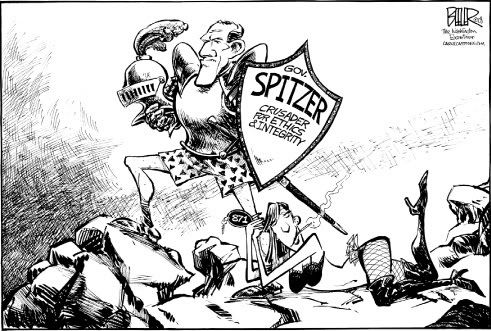 In the quest for greater transparency within politics, Americans (with the aid of the media) have all but demanded the complete day-to-day itineraries of our leaders. Shady government (and personal) dealings in years past have given Americans an appetite for complete honesty from our politicians, yet in a strange twist, Americans don't seem to want the same thing from political spouses.
This phenomenon was demonstrated in February when Barack Obama's wife Michelle said in a speech, "For the first time in my adult life, I am proud of my country."
Michelle Obama's candor, far from being appreciated or respected, was used against her in an ugly backlash that lasted for weeks and resulted in her having to explain the remarks.
The ability to speak openly and truthfully is a time-honored tradition in this country, yet the scripted and predictable speeches given by politicians time and again leave most people wondering whether we really know our leaders (much less their spouses, who are routinely asked to give speeches in support of them).
Recent scandals prove this point. Eliot Spitzer resigned as governor of New York earlier this month after a federal wiretap linked him to a prostitution ring.
Spitzer, once known as "Mr. Clean" for his reputation as a leader who was determined to rid New York of corruption, also served eight years as attorney general. In that time he is known to have prosecuted at least two prostitution rings.
Spitzer addressed the issue and publicly resigned, as his wife stood silently by his side.
This is certainly not the first time a politician's wife has had to stand by her husband during an embarrassing moment.
Carlita Kilpatrick, wife of Detroit Mayor Kwame Kilpatrick, recently sat holding his hand as he admitted to an affair with his chief of staff.
While it may be argued that such personal information be kept private, the fact that the spouses are expected to put on a brave face and say nothing during this time of hardship is ridiculous.
As the fallen leader 'comes clean,' their spouse is expected to remain quiet and supportive.
In the haste to put on positive appearances for the public, the air of honesty that Americans can and should demand from leaders is compromised. If the person closest to that leader cannot express themselves during such moments (even if that simply means not attending the press conference), the public's ability to hold our leaders accountable for their actions is undermined.
As far as I know, free speech is still the right of everybody in this country – political spouses included. Remaining silent and appearing supportive after being disrespected does not send the right message to anybody.
The practice of silencing a leader's spouse is not relegated to wives only. Bill Clinton (who has had his own share of scandal) is now being used as a pawn himself. He gives speeches and lectures whenever Hillary's campaign needs a boost, but after each misinterpreted remark he suddenly disappears from the forum.
In an atmosphere where thoughts and words flow freely, slipups and controversial opinions are inevitable, but without such an atmosphere the truth is too easily oppressed.
For a political spouse to speak her or his mind when things get tough would, at the very least, make honesty easier to come by within the political arena.
This doesn't mean that in using their voices the same scrutiny wouldn't apply to the political spouses as to our actual leaders. After all, they too have a platform that reaches scores of people.
The demand for honesty can lead to some childish accusations at times, but on the whole this open-book policy provides a better understanding of what type of people we elect to office. And the spouses of these leaders could be instrumental in creating this more open and honest atmosphere – as long as they are allowed to speak freely.