CSUN's Model United Nations is best in country
*The CSUN Model United Nations team in front of the U.N. in New York after winning outstanding delegation representing Afghanistan. From left to right: Mujahidul Haque, Marguerite Sanvictores, Elena Ponyaeva, Dr. Peter Kappas, Jennifer Jasgur, Richard Wilk, Danae Busby, Jorge Guerrero, Karen Roseberry, Sabine Freij, Giovanni Batz, Justin Robertson, Justin Seuthe.
*Courtesy of Mujahidul Haque and Giovanni Batz Photos by Mildred Martin, Daily Sundial
While his friends were out celebrating the New Year during winter break, Jorge Guerrero was sitting at home writing a paper in front of a heater. The paper he was working on, however, was not a standard five-page essay on topic X. It was a position paper he would present in a Model United Nations Conference in New York City two months later, where he represented, along with the rest of the 12 person CSUN team, the Islamic Republic of Afghanistan.
This particular paper was two pages long, single-spaced with size 10 point font and 0.5 margins, which is the format followed by the other students enrolled in part time lecturer, Peter Kappas' MUN class.
"I must be out of my mind," thought Guerrero, a graduating senior political science major, at the time. But thanks to his and the entire MUN team's relentless writing and editing, CSUN won outstanding delegation, equivalent to first place, during the week-long conference this past spring break. CSUN also took home an award for outstanding position papers, and Guerrero, along with head delegate Justin Seuthe were recognized as the best single delegation in their committee, the General Assembly Plenary. This is the second year in a row CSUN brings home top honors at the conference, where 270 schools from all over the nation and world compete; last year they represented Iceland. The other members of the team were Mujahidul Haque, Marguerite Sanvictores, Elena Ponyaeva, Jennifer Jasgur, Richard Wilk, Danae Busby, Karen Roseberry, Sabine Freij, Giovanni Batz and Justin Robertson.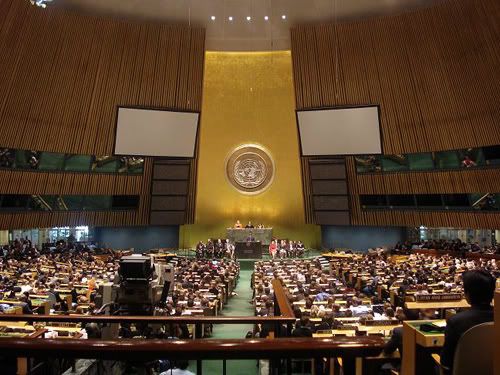 *Inside of the United Nations during the closing ceremony on March 22, 2008.
"This is the second time I've done it, and it's a great experience," said Suethe, who is graduating this semester in political science.
"I was proud to go and represent my school in front of a national conference. . . I'm happy I'm going out on such a good note."
MUN is more than a typical course offered at CSUN. Enrollment in Political Science 427, which is offered during both semesters with a lab component, is centered on participating in local and national conferences that students are expected to excel in.
"The course is organized around winning awards through superior academic performance," said Kappas, who has been teaching MUN for seven years. "Students don't have to be motivated by the awards, but they do have to do a good job, and they have to want to do a good job."
The class has more of an informal setting; there are no lectures or tests, and students essentially run the class.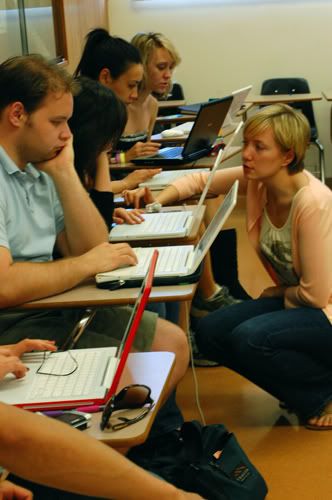 New York delegates share pictures and information of the past conference during class.
"My perception is that students learn a lot more in MUN than they do in other lecture-based classes because it's hands on and it's competitive, and that competitive element motivates them in a way that preparing for tests does not," said Kappas.
"Although it's kind of informal, it's still pretty intense. . . But once you get it, it's a lot of fun," agreed Ponyaeva, who was a member of the third general assembly during the New York conference.. "It's not that often you get to solve world problems."
Students are taught the value of good speaking, research and writing skills by presenting speeches on relevant international issues, making it seem like a "public speaking boot camp," as Suethe called it. When a delegate-in-training stumbles or uses the words "like" or "um" in a speech, other students throw trash at the speaker.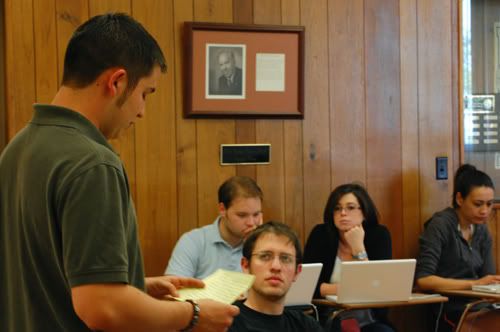 Gabriel Perez practices his speech in front of his Model United Nations classmates on Tuesday March 25.
Since the class and work load is often grueling (some believe the course should be worth more than three units), the lessons taught in the course go beyond average academia.
"It's so much more than a class . . .because you get to do a lot of research and public speaking and you get to learn some leadership skills," said Ponyaeva. "I don't think we have any other classes that let you do all of that at the same time."
While students often enroll in the class without knowing what to expect, leading many to drop out early on, they are pleasantly surprised to find that MUN can help them in other classes and in their lives.
"MUN, almost in and of itself?has developed me as a critical thinker, professionally, academically, and I love it because it compliments all my other classes," said Guerrero, who would like to work for the United Nations Development Program one day. "All these skills that you learn are not just good for MUN, you are able to apply this to everything in the spectrum of life."
Aside from the figurative advantages of MUN, being part of the team also has its tangible perks; hard work is paid off with awards. During local and regional conferences, which can be single or multiple days, delegates win individual awards for delegation and research for representing a country of their choice in a particular committee. The student delegates choose a country of interest and represent it in a particular committee.
Although Batz, graduating senior, political science major, didn't win an individual award until his second year with MUN, he was proud to have finally received a research award for representing Panama in the Economic and Social Council during that conference. "Once you get it, it makes you feel good because, I don't know what it is, you can't explain the feeling," said Batz.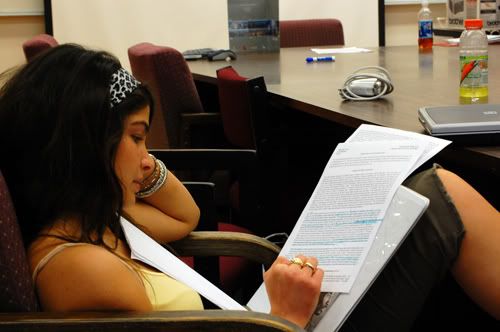 Tiffany Lane reviews her position paper for a conference.
For Kappas, student victories represent "complete domination," and Batz jokes that it's the only time one can see him smile.
In the national conference, the team, which is hand-picked by Kappas, is divided into groups of two. The team gets to submit a list of 10 countries they would like to represent, and the MUN organization then assigns each one a country. Kappas said CSUN landed Afghanistan because of their impressive record; the CSUN team has won 23 individual delegate awards in the last year. Their last conference, before the one in New York, was in Buena Park on March 1, where they took home 43 percent of the awards.
"Since we've won awards repeatedly, they tend to favor us more because they know we're going to do a good job. Afghanistan is a very special country to represent."
The award given during the national conference is for the team as a whole, and the CSUN group has enough spirit to spare.
"We are very team-oriented, we always get together, we talk to each other about our country's policies," said Haque, who represented the International Atomic Energy Agency. "We are a forced to be reckoned with."
That dynamic continues back home. Now that the big conference is over, the returning students come back to CSUN to mentor the new students on their upcoming April conference in Anaheim, and the process starts all over again. p>
For Gabriel Perez, a fourth year political science major, his first semester in MUN has been easier thanks to returning members' tips and examples. "We learn from each other, they share information as to how to prepare," he said. "Everything they've said about public speaking has been helpful."
Patricia Ford who is finishing her last semester at CSUN, but is in her first with MUN, said the fact that Kappas presents old position papers and talking to older members helps her in the class. Kappas serves as a mentor, mediator, and overall inspirational figure for the students, even though he started teaching MUN on a whim.
"Professor Kappas is the main reason why we do well, because he guides us through the whole process," said Ponyaeva.
Some members said although Kappas can be a little intimidating, he is a great influence in their recent victories and their overall effectiveness in competition.
"He's strict, he's tough, he's firm, and if he wasn't like that, MUN wouldn't be what it is? it could be a lollygagging social club," said Guerrero of Kappas. "(He) is really like the glue. . . It is almost solely up to him to maintain the reputation of MUN. He's 100 percent business."
The students themselves are strictly business as well. Although they had their share of fun in New York during the conference, student delegates understand, especially after a warning from Kappas, not to get in trouble, that they need to be completely prepared for whatever comes their way in committee.
While he was in a conference in Las Vegas last October, Guerrero saw a delegate from another school wearing a shirt that read: "MUN is FUN: where diplomacy and debauchery meet," and had a picture of two beer mugs. Although he thought it was funny at first, Guerrero realized that the shirt was "not indicative of our attitude or our mentality when we go to these conferences." He said that while they go out and have fun, they never lose focus on their main goal.
"It has to do with being disciplined," he said. "When it's time to play its time to play, when it's time to work it's time to work, when it's time to sleep, it's time to sleep. It's as simple as that and you have to be able to maintain those sharp distinctions between those different levels."
Guerrero and Haque agreed, however, that MUN, is indeed FUN. They, along with the others, feel they have not only learned valuable life lessons, but have also found great friends who they've shared amazing experiences with.
"I'm going to miss it a lot," said Suethe. "Some of the most exciting moments of my life have been with this team. The whole thing has been a gratifying experience."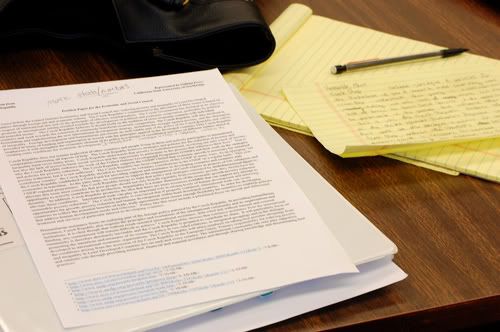 Tiffany Lane's position paper and notes for an upcoming conference in Anaheim.