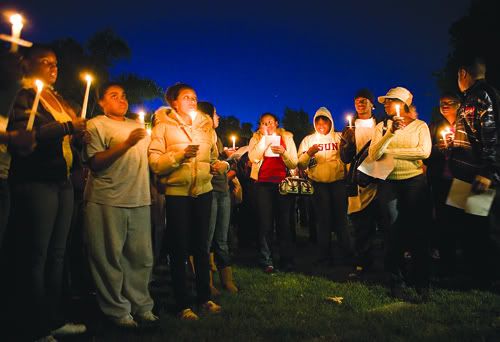 Friends and family of slain CSUN student Clifton Hibbert Jr. gather at the bookstore lawn for a candlelight vigil. Clifton and his friend Kenneth Patterson were shot and killed on March 29. (Abel J. Macias, Daily Sundial)
Clifton Hibbert Jr. was just a few weeks shy of becoming a CSUN graduate, when his life was taken violently on March 29.
Hibbert, 22, and a friend, Kenneth Patterson, 23, were fatally shot in front of an apartment complex located on the 4300 block of Figueroa Street in South Los Angeles near the USC campus.
"He loved people and he loved his culture," said Hibbert's father, Clifton Hibbert Sr. during a candlelight vigil held on campus on Thursday night.
The Associated Students organized the somber and uplifting candlelight vigil in memory of Hibbert.
"He was not only a member of a family, but also a member of the community," said A.S. President Adam Haverstock during the opening of the vigil.
Family and friends of Hibbert held candles in memory of the slain college student during the vigil as the group gathered in a circle around the microphone and listened to speakers express fond memories of Hibbert's life.
Donna Brown, Hibbert's mother, evoked anger, pain and sadness as she took the microphone and described her son as being raised with a good heart. She wondered why her son was senselessly killed and posed the question to attendees.
"No one deserves this?People are killing each other for what, what is the purpose?" Brown asked.
William Watkins, associate vice president of student affairs, also spoke to the crowd, urging them to finish what Hibbert started here at CSUN.
"Your son was moving in the right direction to see his dream," said Watkins to Hibbert's parents.
Hibbert's dreams included pursuing law school after graduating from CSUN in May, said Melvon George, a senior communication major and a family friend of Hibbert's. George said Hibbert was a focused college student who loved his family.
Hibbert leaves behind his mother, father, brother, sister and fianc'eacute;e.
Letoya Hicks, Hibbert's fianc'eacute;e, said Hibbert was a great friend and cook.
"He wasn't gang banging or anything. He was a college student," said George.
George said Hibbert's death was the result of individuals who lack self-esteem. They lack self-esteem and as a result lack the importance of their own lives and see no reason not to take another person's life, he said.
Apart from being a college student, Hibbert was described by family and friends as compassionate, funny and a reggae lover whose life was cut short unexpectedly.
Police said Hibbert and Patterson were killed shortly after being dropped off in front of the apartment complex.
"The two victims were shot in the early morning of Friday, March 29," said LAPD Det. Geiger.
The two youths who had accompanied Hibbert and Patterson told police that they were in search of parking when they heard gunshots.
When police arrived on the scene, Hibbert and Patterson were discovered with fatal shots to their heads.
The neighborhood in which the double homicides took place is an area allegedly known to have frequent drug deals and gang activity.
In regards to the alleged criminal activity with which the neighborhood is associated, Geiger said he can neither deny nor accept the neighborhoods description, but said that double homicides are not ordinary happenings in the neighborhood.
"It's uncommon for two people to get killed in front of a apartment complex," said Geiger.
Police said they are following up on all leads in the investigation, as there have been no suspects identified in the murders.
"There are a lot of stories floating around," said Geiger. "We are requesting the publics assistance with information regarding the shootings."
Hibbert's funeral service was held at Faith Central Bible Church in Inglewood on Saturday. Hibbert was laid to rest at Inglewood Park Cemetery.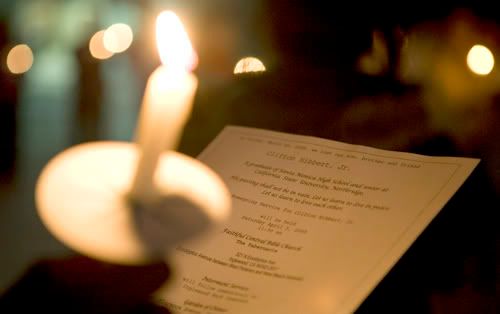 At the vigil, flyers were passed out for Clifton's funeral, which occured last Saturday. The funeral took place at the Faithfull Central Bible Church in Inglewood.