Residents urge U.S. congressman to support Bush impeachment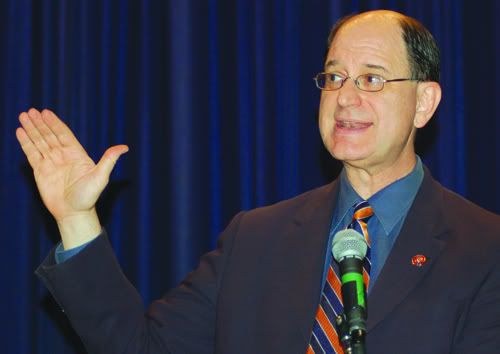 Congressman Brad Sherman spoke in front of the San Fernando Valley community on March 30. The town hall meeting took place in Reseda High School, where about 200 community members showed up for the event.
Impeachment was discussed during a town hall meeting with U.S. Rep. Brad Sherman held at Reseda High School on Sunday, March 28.
Approximately 200 San Fernando Valley residents gathered to ask the congressman from the 27th District about local, national and international issues. Reactions were mixed when issues such as the war in Iraq, high crimes and misdemeanors were addressed.
Several questions were asked about George W. Bush's presidency and whether Sherman would favor impeaching Bush and Vice President Dick Cheney. Although Sherman acknowledged that his constituents in the valley tend to be, and vote, more liberal than the rest of the country, he said voters across the nation may not see eye-to-eye on certain issues.
"How about doing something because it's right?" Paul Russell Laverack, a CSUN screenwriting graduate student asked Sherman, after he had been discussing the issue for a few minutes in front of a microphone.
Laverack was one of a handful of attendees whose number was called to ask the congressman a question. He mentioned nine other presidents have had impeachment articles filed against them.
Laverack also said that executive privilege needs to be curbed in order to avoid future wars, torture and wiretappings, regardless of who is president. When Sherman warned of the complexity and consequences of impeachment, (he voted against the impeachment of Bill Clinton in 1998, and is a member of the Judiciary Committee in the House of Representatives) a woman in the audience shouted, "It doesn't hurt to try," to which Sherman answered, "Sometimes it does hurt to try."
"What he is suggesting is that if you don't try, you won't get hurt," said Brian Wilson, 48, a writer from Glendale, after the meeting. "I am fed up with people lying to me about what they can and can't do."
Sherman asked that a particular subject be limited to four questions, and they be brief and easy for him to answer. He vowed he would "only answer the easy question," if a person asked more than one.
"The questions should be tough, and they were not really invited," said Laverack, who has attended previous town hall meetings with the congressman.
Laverack said compared to other members of congress, Sherman does not hold enough of these types of meetings throughout the year. The previous town hall meeting lead by the congressman earlier this year was conducted as a conference call.
"This is our only chance to get 90 seconds and voice ourselves. We have to get our rage on," said Laverack.
Before the question and answer portion began, Sherman stated that politicians suffer from "National ADD," and as a result, they remain fixated on certain issues.
"We tend to have too much of a national ego, and people have a tendency to tune out politicians and pundits who challenge that ego," said Sherman.
Sherman introduced and applauded members of his staff and Councilman Dennis Zine of the 3rd District of Los Angeles. Zine mentioned Sherman's recent accomplishments for the 27th district, which includes Northridge and Granada Hills and overlaps with Zine's district.
"Brad is the first to represent and help his constituents of the diverse San Fernando Valley," said Zine of Sherman.
The congressman quickly addressed and summarized a few issues he thought would not be discussed, including his stance on Iran, international trade deals and home loans. During the meeting, Sherman touched on a number of topics brought up by members of the audience, like healthcare, veterans' affairs, immigration and environmental policy.