Representin' Northridge: Congressman Brad Sherman talks about his life as a politician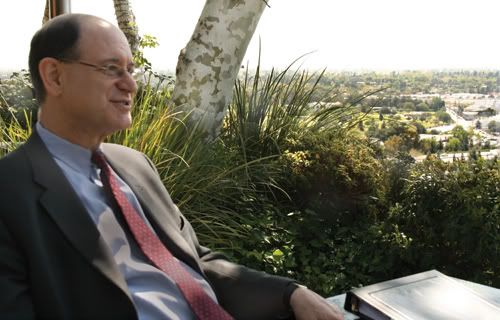 Congressman Sherman sits for an interview at the Odyssey restaurant in Granada Hills.
Photos by Iman Jafarynejad
Brad Sherman is a self-proclaimed nerd. Before he was elected to represent the 27th District, which includes Northridge, Granada Hills and parts of Van Nuys, in the House of Representatives as a Democrat, he worked as a certified public accountant and a tax lawyer. But his friends thought he should find a job that better fit his personality, like a politician or mortician. Finally in 1990, the UCLA and Harvard graduate was elected to the State Board of Equalization. Since California is the only state with an elected tax commission, an office "designed for nerds," Sherman said he fit right in.
"My friends thought I had reached the appropriate level of public esteem," said Sherman during a brief interview at the Odyssey Restaurant in Granada Hills on April 19.
Sherman, 53, grew up in the San Gabriel Valley and was interested in politics from a young age. "I always thought it was the best way to make a social contribution, and I think I felt that long before I could pronounce the words social contribution," he said.
He helped his parents campaign for a Monterrey Park City Council candidate at the age of 7 by stuffing envelopes. "As a as a result of that act of child abuse, I'm here today," said Sherman, before adding, "I was always the envelope stuffer. . . I never thought I'd be the candidate."
In 1996, when his predecessor announced his retirement, Sherman decided to run for office in the then highly Republican district that included Sherman Oaks ("America's best named city," according to the congressman) and Thousand Oaks.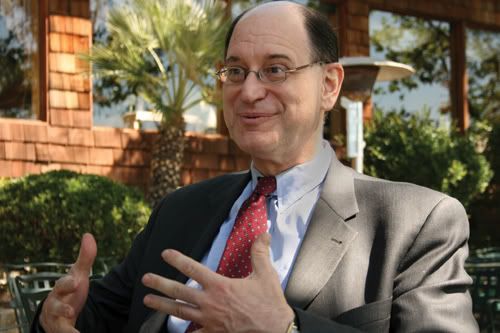 Sherman is known for his sense of humor and animated personality.
"The key to the success of the campaign was that I could run as a tax collector on the slogan 'Send Brad to Washington or he may come visit you,'" joked Sherman. He won the seat by a few votes and has been reelected ever since. When the districts were redrawn, Sherman picked up Granada Hills and Northridge.
Now that CSUN is in Sherman's district, he has voted on issues that affect students of the entire country. Although he recognizes that most of the decisions that affect students and faculty of CSUN are made in Sacramento, Sherman has worked on the federal level to better student conditions and aid by increasing Pell grants and cutting interest rates on subsidized student loans.
He stays true to his Democratic epithet by supporting a timetable exit strategy in Iraq, voting no on extending tax cuts and strict immigration policy, and has written and supported various environmental policy bills.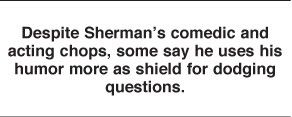 In the House, Sherman is a member of the Financial Services, International Relations, and Judiciary Committees, and five subcommittees; he is the chair of the Subcommittee on Terrorism, Nonproliferation, and Trade.
He spends most of his time in Washington because of his demanding job, but also because his wife, Lisa, works for the State Department. He said he spends three-fourths of his time in Washington, and one-fourth in his district.
"When I do come here (to the Valley) I don't just sit in my apartment, I get up and I find out what's on people's minds," said Sherman.
A lot of that work is done through Sherman's district office on Van Nuys Boulevard in Sherman Oaks. "Our office operates a very efficient program where we can reach out and help our constituents," said Michael Tou, policy deputy at the district office. Tou, a CSUN graduate, said despite the distance and longer working hours in Washington, Sherman keeps close contact with his district office via phone or email.
"The congressman is very much engaged with other members of congress and communicates with them very well," said Tou of his boss. "He is very appealing and humorous to say the least."
Sherman is known for his self-deprecating humor. He passes out small combs at events as an ironic comment on his baldness, and appeared on "The Colbert Report's" "Better Know a District" where Stephen Colbert makes fun of members of Congress during a quasi-interview.
On the show, after Sherman gave Colbert a CSUN sweater as a souvenir, the anchor tried to get Sherman to acknowledge that his district is the home of the largest pornography industry in the Nation. Because of his appearance on "The Colbert Report," Sherman said more people, not from his mother's generation, became aware of him. After the show aired, Sherman said lobbyists from the adult entertainment business went to his district office to make sure he was aware of the industry's existence in the Valley. "At that point, I sought a nomination for an Emmy," said Sherman. "If I had convinced this industry that I thought that they weren't here in the San Fernando Valley, that is better acting than anyone other than Meryl Streep,"
Despite Sherman's comedic and acting chops, some say he uses his humor more as a shield for dodging questions.
During his recent town hall meeting at Reseda High School, he told the audience to ask easy questions if they wanted a well thought out answer.
"He who jokes confesseth," said Paul Russell Laverack, a CSUN screenwriting graduate student who had a heated confrontation with the congressman about impeachment during the meeting. "He uses humor because it's an easy gag and to keep people at arm's length."
"He jokes a lot, but I don't think that what our country is going through currently is something to laugh about," said Brian Wilson, 48, a writer from Glendale, who was wearing a "Stewart/Colbert 2008" campaign shirt. Wilson compared the confrontation between Sherman and the audience to Muhammad Ali's boxing strategy called "Rope-a-Dope," in which a fighter stays on the ropes, taking punches from his opponent, until he wears out and the prevailing fighter takes out the other in one punch. In this case, Wilson argued that Sherman cut questions short and joked around until the allocated time ran out. "Save the jokes and do your job," he added.
The meeting got rowdy after the congressman said supporting the impeachment of President George W. Bush might not meet well with his fellow members of congress or his constituents across the country. He raised and waved his hand in attempt to calm questioners and the crowd.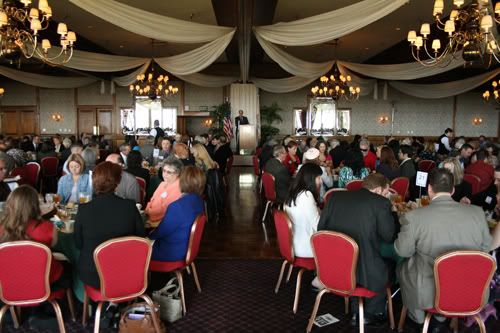 Sherman presenting an award at a banquet at the Odyssey restaurant in Granada Hills.
"I agree with 95 percent of what he does, but he doesn't have to be so negative when people don't agree with him," said Teresa Priem, 49, of Northridge. "He needs to stand up for what's right."
"For a politician, I think he addressed it fairly well," said local pharmacist and activist, Ira Freeman, 67, of the antagonism Sherman faced during the meeting. "It's difficult, that's why I personally haven't gotten into politics. You have to listen and give voice to the opposition."
Sherman faces resistance on a regular basis in Washington. Currently he is sponsoring a bill that would allow California to implement its own greenhouse gas emission standards by overturning a decision by the federal Environmental Protection Agency to deny the state a waiver. Although he knows the bill will not be supported by the Republicans in the Senate who will call for a filibuster, and will probably be vetoed by the president, he hopes it will pass when a new president is inaugurated in January. "Not that I want to get partisan," jokes Sherman.
Sh
erman said that if he wasn't a politician, he'd probably still be doing tax work as a lawyer or CPA. "My idea of March Madness is getting everything done by April 15."
Although he much prefers staying in one place to do his work, in Washington, Congressman Sherman feels he can be more effective doing what he is doing today.
"This (interview) is much nicer than flying first class, on any airplane; we got all the leg room we want." He added that the best part of his job is "you get to have an infinitesimal impact on the most important things in the world, and you get to actually get some things done."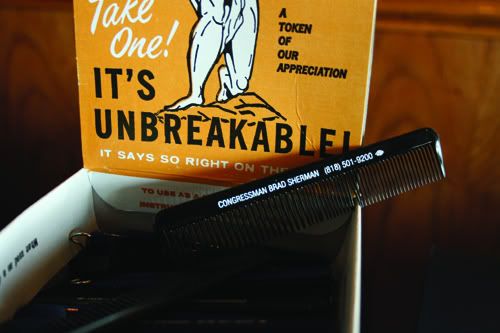 An example of his sense of humor, Sherman gives out free combs at his public appearances.
Exclusive interviews:
Brad Sherman on his Colbert Report tv appearance