Northridge wins 2 against UCSB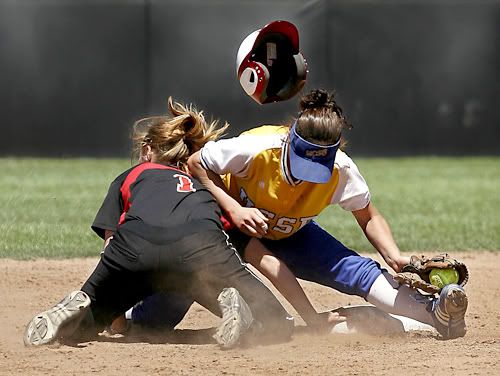 Amanda Pitzenberger collides with UCSB's Christine Ramos while avoiding the pickoff at second base on Sunday at Matador Diamond.
The UC Santa Barbara Gauchos' softball team came into its weekend series with the CSUN Matadors 23-16 and unblemished in six Big West Conference games.
?Someone forgot to tell that to the Matadors, though.
?CSUN handed the Gauchos its first two conference losses on Saturday by scores of 5-4 and 3-1, but was unable to muster up the same magic in the rubber match the next day, losing 4-0.
?"I'm happy we won two out of three, but it would've been nice to finish the job and get the sweep," head coach Barbara Jordan said.
Sophomore Alexandria Alvarado was named Big West Player of the Week on Monday for her performance in the series. Alvarado hit .375, smacking two doubles, two runs and two RBIs for the weekend.
?In the first game, CSUN scored in the second inning to go up 1-0. Junior Micah Putnam hit a double, advanced on freshman Tracy Allen's sacrifice fly to right field, then scored on a wild pitch.
Santa Barbara came back with three runs in the third inning to take the lead, but the Matadors responded with three runs in their half of the third to retake the lead 4-3. Alvarado reached base after being hit by a pitch, advanced on a walk by sophomore Jaclyn Rymer. then stole third. Sophomore Christina Saenz singled, scoring Alvarado and Rymer scored on a wild pitch. Saenz then scored on a single by Putnam. Northridge later added another run after Putnam doubled, advanced on a single by Allen, then scored on a bloop single by freshman pinch hitter Kristen Mihm.
Senior Mercedes Lovato got the win, pitching six innings before sophomore Amanda Pitzenberger came in for relief and despite giving up a run, was able to nail down the save.
?"I put a lot of confidence in my defense," Pitzenberger said.
?Santa Barbara got the early jump in the second game, taking a 1-0 lead, but not for long, as Northridge tied the game in the third inning. Junior catcher Amanda Peek drew a walk, took second on a sacrifice and Alvarado doubled to left field to get Peek home. Northridge then took control in the fifth inning when Peek reached base and Alvarado again got her home, as she hit a flyball to left field that landed in front of Churnock. Alvarado later scored when sophomore Jaclyn Rymer singled to left field.
Samantha Schroeder pitched the first four innings and Pitzenberger finished the job for the win.
?"We played well and I'm glad we didn't make Santa Barbara bigger than they were," head coach Barbara Jordan said.
?The Gauchos, however, dispelled any notion of a sweep on Sunday, as they jumped on the Matadors from the start and sophomore pitcher MeLinda Matsumoto kept the Northridge offense at bay, pitching a complete game shutout and scattering four hits.
?"We didn't adjust offensively," Jordan said on Sunday. "We made (Matsumoto) look like a million bucks."
?Santa Barbara asserted themselves in the first inning, putting two runners on base in the first inning and senior Tisha Duran hit a deep flyball over center field for a three-run homer.
Schroeder replaced Lovato in the second inning and allowed only one more run and two hits in six innings of work, but the Matador hitters were unable to get to Matsumoto the entire afternoon.
?"I was trying to help out the team hoping we would come back," Schroeder said.
?CSUN (16-19,5-3)?heads back out on the road, this time to San Luis Obispo for three games with the Cal Poly Mustangs starting on Saturday.