Airbrushing should be a technique of the past for magazines
It turns out I can look like a supermodel with the click of a mouse. A little more definition in the cheeks, shrink the waist by five inches, and lets not forget about the butt! Add a healthy glow to my skin so it looks like I came from an exotic South American country and I'm almost at digital perfection.
When I take a look at the array of fashion magazines on the newsstand, I like to tell myself there's no way the women on the covers can look that perfect. Not a single wrinkle in sight, natural-looking tan, and a body that looks like Michelangelo carved it out of marble. This is the magic of airbrushing.
In a recent article published on the Women's Wear Daily website, Samantha Conti reported that the United Kingdom's Periodical Publishers Association will set up a group that will work with the British Fashion Council and magazine editors from London to discuss the use of digital enhancements in fashion photography. This happened following the BFC's call for a code to be placed on digitally manipulated photography.
Whether one would like to admit it or not, a majority of the images we see in fashion magazines are not real. They have been altered, to one degree or another, to please the aesthetic perfection the publishers of magazines are trying to portray to their readers.
To say they convey a false image is an understatement. When you pick up a magazine with an actress who is known to be on the curvier side, meaning not a size two, and all of a sudden her thighs are slimmed and toned to perfection, it registers in your head that someone must have digitally shed away the pounds.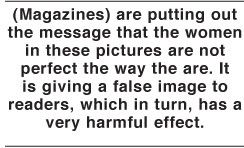 When magazine editors airbrush photographs in fashion magazines, they're putting out the message that the women in these pictures are not perfect the way they are. It is giving a false image to readers, which in turn, has a very harmful effect.
Teenage girls, who are at that impressionable and sensitive age, look at the women in fashion magazines and aspire nothing more than to look just like them. A false reality registers in their heads that real women look like that.
If magazines feel they must continue to publish photographs of digitally enhanced women, then all they must do is attach a label stating the image has been altered. In doing so, they will stop feeding false hopes to their female readers who go through the magazines and pity themselves for not looking like a supermodel.
Magazine editors and publishers could certainly argue that people should take into account the kind of business they are in. It is not the business of truth and morals, but the business of profiting off of beauty. Fashion magazines are trying to sell a specific image, and in some cases that image is of a beautiful, slender young actress whose breasts may not be as well endowed in real life.
Magazines could argue that their entire business is based on beauty and a specific type of look, so adding a label to a photograph will change the business completely. That may be true to a certain degree, but how long will the profit motive outweigh the need for the portrayal of a true reality?
As a reader of fashion magazines since my early adolescent years, I can say the images teenagers are exposed to in magazines today can have a harmful psychological effect. Most teenage girls don't understand the idea of airbrushing and the counter effects it could have. When a 15-year-old girl is having issues with body image, the last thing she needs is to look at a fashion photograph of a woman who has been digitally perfected and believe she naturally looks like that.
The process of changing the views of magazine editors, designers, and the entire fashion business about what kind of image is healthy to portray in fashion photographs will take more effort and time than to place a label saying this image has been digitally altered.
That is not to say the images the fashion business deems beautiful should not be changed. That process is more intricate and requires a complete divergence to a new reality than the one the business is portraying now.
For the sake of the immediate future, the most effective method the fashion business can implement is the use of a label on their fashion photographs. By doing so, they will be breaking the false reality they have worked so hard to create in the minds of women.