Mayan immigrants face prejudice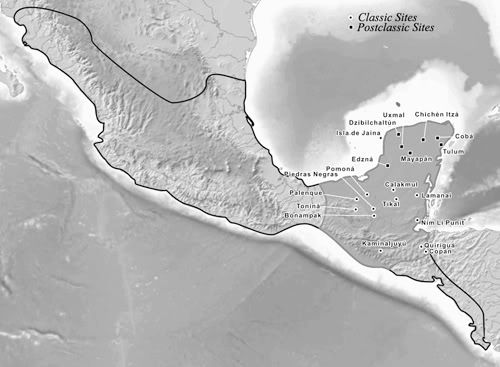 Map showing Mayan city-states and cultural mainsteads.
Elias, a 25 year-old Spanish literature and Central American Studies double major at CSUN, grew up in the small town of Olintepeque, Guatemala. At the age of 15 he left due to the poverty that, according to Elias, "wouldn't allow us to live a stable life," and headed for Los Angeles, where his father was already creating a new life for him and his family. Elias' father had left Guatemala in 1992 and began working as a raspado (snow cone) vendor, earning about $40 a day.
The journey to Los Angeles was long and costly says Elias, who migrated with his mother and three brothers. The cost at the time was $600 per person to cross from Mexico to the United States. Elias says, "We tried three different times to cross from Mexico to Los Angeles and once my brother and I were detained in jail, even though we were minors. Soon we ran out of money and we were forced to live on the streets of Mexico for about a week until my father was able to send money."
When he finally entered the United States and settled in with his father in the Pico Union district of Los Angeles, he struggled to adapt to the new culture and language. "Sometimes people make fun of you, you're afraid someone will laugh at your accent." Elias, who is of Mayan Quich'eacute; descent, says his parents didn't teach him the Quich'eacute; language because they felt he would face discrimination.
Elias said he feels pride in bringing awareness to the Mayan culture and often speaks at cultural events on campus. Elias says, "It's important to let people know that we have rights and that they need to let us live in dignity. People shouldn't feel sorry for us."
Elias graduated from Hollywood High School in 2001. Upon graduating, he attended Glendale Community College and later Los Angeles City College, before being accepted into CSUN in 2005. Elias says, "In Guatemala, not everyone got the chance that I did to go to school. I was able to go up to the 6th grade. I want to be able to provide people with this same opportunity." Elias is studying to become a teacher, but due to his lack of documentation he will be able to receive a degree, but unable to practice his profession.
Elias said he and his family could not wait to apply and receive legal visas, not only because of his poverty, but due to the increasing discrimination and militarization against Mayans.
"I don't know what to do when I get my degree. Where am I going to go?" says Elias. "I want to succeed, I wasn't able to have much in life, to play with toys. Going to school means something better for me. I want to have a family one day and this means something better for them."
Alicia Ivonne Estrada, a professor of Central American Studies at CSUN, who specializes in indigenous movements, says formal education is difficult to obtain for Mayans, especially those living in rural areas of Guatemala. It is the government of Guatemala who has failed the Mayans in the education system. The education that is provided is limited, especially to those living in rural areas that don't have the means of transportation to travel to school.
Estrada says the schools in Los Angeles don't provide services for the parents of Mayan children. Estrada says it is through educating parents first, who often have limited literacy skills, that the children will learn better.
Many times young adults who migrate to the United States don't have the literacy skills to benefit from an education. Estrada says, "How do you go to school to learn and write English, when you can't even read and write Spanish?"
Estrada emphasizes the need to incorporate Mayan culture into the schools. By incorporating parts of their own culture, the children will feel accepted and ready to learn. There is a need to break the cultural and linguistic barriers in schools and create forms of agency for these children. "More and more schools are beginning to incorporate Latino culture, by celebrating Cinco de Mayo and Central American Independence," says Estrada. "But these children do not associate themselves with Latinos."
Francisco Tum, a 29 year-old Mayan Quiche day laborer migrated from Santa Cruz del Quich'eacute;, Guatemala, in 2004. The poverty that plagued his life drove him to seek better opportunities in Los Angeles. "When my father died, my mother had to work too hard to give us all she could," says Tum. "When she could no longer work, we had to work hard to give her all we could."
In Guatemala, Tum worked in clothing manufacturing. His job consisted of checking the clothing for defects. Tum says he would earn about $5.50 per day. "All the money I made paid the rent, the electricity bill, the gas bill," says Tum. "When everything was paid for, there was nothing left for me."
At the age of 26, Tum left his town with the help of a friend, who provided him with a place to stay in Los Angeles. He moved into a one-bedroom apartment with 12 other people. Tum says it was hard to find someone who would be willing to lease an apartment to immigrants, especially Mayan immigrants because they dressed differently and spoke a different language. Managers would insult them and threaten to call immigration services on them when they would inquire about an apartment.
As a day laborer, Tum struggles daily to find work. The work of a day laborer is not consistent; there is no guarantee that he will always have a job. Tum says when he first arrived in Los Angeles he would stand in front of a Home Depot and hope contractors would hire him for the day. Now he works in Tujunga where work is still hard to find. Tum says much of the discrimination he experiences is not just from contractors, but also from his Latino peers. "Sometimes we speak in our language and they think we're bad-mouthing them," Tum said.
There have been cases of contractors who hire day laborers and withhold their pay. Other contractors hire laborers under the pretext of doing work, but instead they are taken to immigration services where they are detained and eventually deported.
Tum says not all employers are out to get them. Some contractors try and learn more about their culture. "They teach us English and we teach them Spanish and Mayan customs. It's a learning experience," he says.
Tum says groups of people drive by the corners where day laborers wait to be hired and yell insults and threats, but he's not bothered by it. "They tell you, you don't belong here and yell insults at you, but people insult each other everyday, it's no big deal," says Tum. "We do what we have to do and we don't let people stop us."
Tum hopes by sharing his story, the discrimination he and thousands of other immigrants face everyday, can be eradicated. "Discrimination still exists in the 21st Century," says Tum. "In Guatemala articles have been written denouncing our dress and language. We have to find a way to eliminate this."
The Guatemalan government has created the invisibility of the Mayan people first and foremost. There have been efforts by different outlets to shine light on the struggles of the Mayan people. Estrada hopes through the visibility of the growing Mayan community more organizations will spring up and address the issues that impact the indigenous communities. Estrada says, "It is only through acknowledgement and education that change can be brought about."
Felipe, a Mayan native of Peten, Guatemala, arrived in Los Angeles at the age of 26. His family and hundreds of Maya-Achi from the Vera Paz region were forced to migrate to the Peten region because their lands were taken and used for coffee plantations. He and thousands of Guatemalans left in the 1980s because of the civil war that killed more than 200,000 people, most of them Mayan. Once in Los Angeles, it was difficult to express his indigenous roots for fear of being deported to the political repression and vio
lence in Guatemala. He says that often one word in his native tongue, Achi, would be cause for humiliation and marginalization, not only from those who opposed the influx of immigrants, but from other Latino immigrants who were in the same situation as he. "It was a time of fear, not to have the language or the documents," he said. Now 49-years-old and a radio programmer for the indigenous radio program on KPFK 90.7, Contacto Ancestral, he sees how the discrimination of indigenous people by the government of Guatemala is still very much alive today and driving thousands of Mayans from their communities to Los Angeles.
Estrada says an increasing number of Maya are migrating to Los Angeles due to increasing ethnic, linguistic, and religious discrimination in Guatemala. Also due to neo-liberalist policies like CAFTA, that further displaced indigenous people from their lands. "The migration during the 1980s was for political reasons. The migration of today is still due to political reasons." says Estrada. "We need to remember the United States funded and trained the military of the Central American countries and created a false image of democracy when in reality there was great human oppression and massacres."
There is no concrete data on the number of Mayans coming to Los Angeles because there is no category for them in the Census. "They do not identify themselves as Latinos or Native Americans," says Estrada. "At times they don't even identify with being Guatemalan," Fear and lack of documentation keep the actual number of Mayan immigrants in Los Angeles unknown. Felipe says reports of large deportations create fear within the Mayan community forcing their continuing invisibility. Deportations of more than 300 Guatemalans in New Bedford, Mass. last March where more than half were Mayan. "If it could happen in a place that seems worlds away," says Felipe. "It could happen at home."
Felipe, along with others, started Contacto Ancestral in 2003. It has become one of the only indigenous based radio programs out of Guatemala. He says that his work in the organization began as a way to let the world know about the massacres and political repression in Guatemala during the 1980s, but the focus of the organization has changed. Felipe says through the radio program Contacto Ancestral Collective, he hopes to reach the indigenous community and discuss topics that affect them, but also reach a wider audience.
"We have a culture that differs from others, a culture that makes us proud to be different," he said. "We are forced to maintain our own identity in a society that doesn't accept us." Felipe says the need of every immigrant is different. It is necessary to see immigrants as individuals. "It is not by looking at statistics, but the human side of immigration that the racism," says Felipe. "Not only against Mayans, but all immigrants can be eradicated."