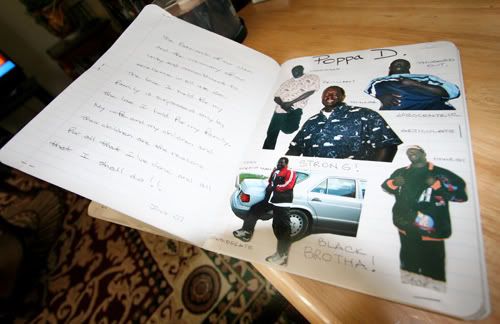 Photos by Bejan Siavoshy
A man of that quality, how can he be gone?" Nicole Diliza asks, fighting back the moisture that wells up in her eyes as she speaks of her husband, Kojo. The 80-degree night air that engulfs Bakersfield dries the few tears that have managed to slide past her best efforts to keep them contained on the first Sunday Nicole doesn't get to spend with her husband.
"A man of integrity, a young man, honest man, intelligent man, a concerned man about his community, with love for his family, love for his community, love for people?I can't believe that this man right here is gone," she said.
Since he fell into a coma last Thanksgiving, by the bedside of CSUN Pan African Studies senior Kojo Diliza was his wife, Nicole. The cause of the coma is not certain, but Nicole believes the main factor was a combination of stress and a prior diagnosis of congenital heart disease.
But since he passed away on Wednesday, April 23, this weekend, Nicole spends at home, with the kids and family members, being strengthened by the joy that was in the life they shared, instead of sifting through memories to find a cause for greater sadness.
"It is bothering me, it is really, really bothering me, but my husband and I have this part of us that is this great strength. So I take a deep breath, and get through it," said Nicole.
Kojo was a full-time honor student, full-time worker at a publication circulation job on weeknights and a marketing job on the weekends, while making the daily commute from Bakersfield to Los Angeles to drop Nicole off at UCLA, where she studies child development, before coming to CSUN for his own courses.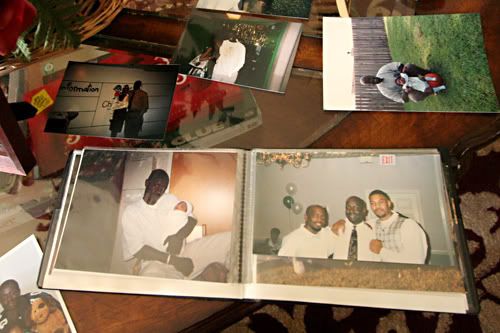 Pictures of Kojo Diliza are placed on the coffee table as the family sifts through boxes of photos. Here, he is pictured with his cousin and friend.
Nicole can still recall the happier times with Kojo as if they were yesterday's occurrences, not limiting herself to dwell on his passing.
"We first met at Augusta State University, he was working as a library assistant and I was studying for a bio test. I put my head down for a little bit and fell asleep, when I woke up, I saw him looking at me, I almost screamed-but I didn't," Nicole said, laughing. "We started having a conversation and, as I talked to him, I was impressed because you don't usually just run into a person who is that smart, who is that engaging on an intellectual level."
If she did not go to visit Kojo in the hospital alone, along came any or all of their five children, who take after their mother and, especially, their father as excelling in academics–something to which any professor at CSUN that had Kojo in a class would attest.
"I am not going to say he is one of the top students I had in a class, he is one of the best students I have ever had," said Pan African Studies professor Johnie Scott, had Kojo in his Advanced Writing class in fall of 2007. "He is the kind of student that really makes school important and relevant."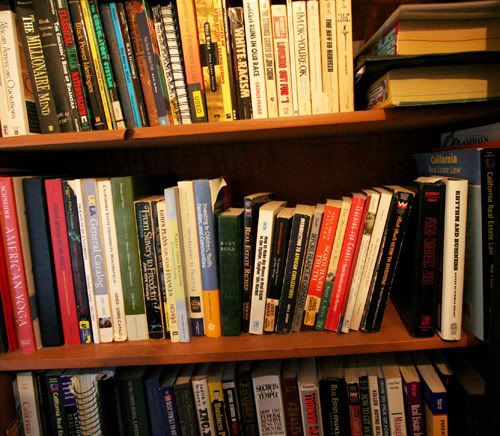 One of Kojo's passions was reading, and his interests ranged from business and finance literature, Pan African studies books, to medieval fantasy novels.
Dr. Spencer Walters, chair of the Pan African Studies department, also had the same impression of Kojo, despite their limited contact, being that he was never his teacher, but spoke with him from time to time regarding academic advisement.
"From the times I spoke with him, I could tell he loved taking classes that enriched his culture," said Walters. "He would ask questions to know about classes and also to enhance his personal and professional achievements. From the conversations we had, I could tell he was a model student."
Kojo's apt for academia was duly noted by his fellow classmates in professor Scott's advanced writing course, which Kojo attended in fall of 2007 before he went to the hospital.
"At first, we were all conspiring to make sure work that semester was going to go easy. Then in comes this man who sits up in the front, and once he starts talking, it raised the bar for the whole class," said Britni Cardosa, one of Kojo's classmates from professor Scott's class. "When he spoke, you couldn't help but listen because he communicated clearly and with such passion that it really helped us all to be better?he was brilliant."
Yonas Ambaw is another class-member of both Cardosa and Diliza, holding the same reverence for Kojo as many others who came in contact with him at CSUN.
"Kojo could take topics and go outside the box with them," said Ambaw, who shared the same goals as Kojo to pursue a career in mentoring inner city youth. "When I first met him, I thought to myself 'that's the kind of brother I want to hook up with.'"
"My first impression was, here is someone who knows what he wants," said Marsheila Randle, who was in a group project with Kojo in the same advanced writing class with Cardosa and Ambaw. "He was the type of person that anyone could learn from."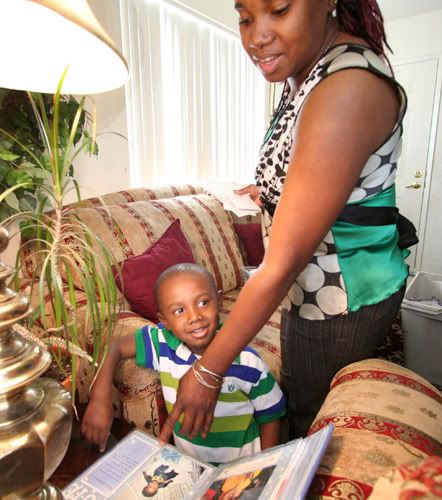 "Is that me, Mommy?" Safiir asks Nicole Diliza, pointing at a baby picture as they look through a scrapbook of baby pictures that Kojo put together. "Yes, son, that is you," said Diliza.
Even with the magnanimous presence and obvious intelligence, Kojo still had a unique perspective on the world. And, although some of the members of class did not always agree with what he had to say, those with opposing viewpoints always valued the chance to engage in debate and discussion with Kojo.
Ryan Ballard is one such student, who also connected more with Kojo because they were both in similar situations: in their thirties, family men, going to school full-time, dedicated to excellence in their academics.
"Because he was one of the more outspoken, opinionated people in class, we would express our thoughts to one another," said Ballard. "The one conversation I still have memory of is a discussion we were having about Marcus Garvey and W.E.B. DuBois. The discussion was so good, that we had to continue it after class. We generally agreed on topics, but he was just the kind of person you want to bounce ideas off of."
Marquis Brignac is another student that looked forward to hearing Kojo's opinion on topics, whether they initially agreed or not.
Brignac said, "I didn't agree with him on every single topic, but he was just someone whose opinion you wanted to get."
Another trait that Kojo was known for both in and out of CSUN was his literary talent. In professor Scott's class, Kojo wrote an essay about race relations and the idendity attached to the n-word. After presenting it to the class, and receiving a near perfect score on the blue-book essay (he missed 1 point because he didn't initially title his work), the piece, "Nigga what, Nigga who: Responding to Don Imus and whether or not there will be a politically safe time to use the N-word," was published in this year's Hip-Hop Think Tank journal.
"When he read his essay, I was dumbfounded," said Cardosa, who first heard Kojo's essay in class. "It was filled with so much passion and honesty.
Brignac felt the same way, saying, "It was real, he knew how to put power to truth."
Pan African Studies professor Karin Stanford was responsible for getting Kojo's work published.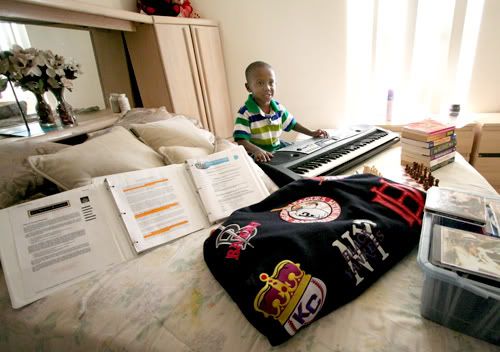 Diliza's youngest son, Safiir, poses with items that were dear to Kojo. Among his interests were both listening and creating music, teaching his child
ren chess, reading and learning about African American history, which is exhibited by his Negro Baseball League jacket.
"He is such a creative writer, he knows how to create a detailed visual of the material and his ideas," said Stanford.
Nicole said that, while she uses the word 'incredible' sparingly regarding other people's writing, it would be hard to notice by how much she thought of Kojo's writing.
"I wouldn't say this about just anybody, but writing is his gift and coupled with his intellect, his literary skills are incredible," said Nicole.
A knock at the door brings her from the depths of reminiscence to the comforting, rambunctious atmosphere breezing through the rest of the house. Safiir, the youngest of Kojo's and Nicole's five children stands bashfully in the doorway, making sure to excuse himself for interrupting before voicing a complaint that his older brothers are hogging up the Playstation 2 controllers in the adjacent room.
"I'll be right there, just give me a couple of minutes. They will let you play the game," Nicole assures him. "Okay?can I stay in here with you?" he asks, looking back at his mother with his father's facial features. "I'll be out really soon, go and play with your brothers and I will be out in a couple of minutes," she says, persuading him to muster up as much patience as a four-year-old can muster and wait until she steps out of the room. He closes the door behind him, returning to the jovial nature of the other room, which is in stark contrast to the one Nicole occupies.
"My children are keeping me stable, they are my strength through this whole thing right now," said Nicole, shortly after Safiir left the room. "Kojo was from New York, so he was a realist. He instilled that in our children, so they are very strong, mentally," she lets out a small chuckle, "Sometimes, too strong. The words I would hear my husband say when things weren't going so easy, I hear now through our children. They tell me 'mom, tough times come and go, but tough people last,' which was something he always said."
After another deep breath, she continues talking of her dearly beloved and sadly departed; about the non-profit organization to work with the youth that they intended to start following Kojo's graduation; about his dedication to his family; about his thirst for knowledge that has filled storage facilities back in Georgia with 10 shelves full of books; about how his writing rivals that of Nicole's father, who is a professor that critique's graduate dissertations at Augusta State University; all with an admiration that sounds too heartfelt and warm to be mournful.
"I understand now how Coretta Scott King, how Jacqueline Kennedy Onassis and Betty Shabazz, how they felt when they lost their man, who were powerful men. Over the years, I have seen Kojo evolve into this powerful man," said Nicole. "So as him being this man and me being his wife, I have to honor and respect his wishes, and that is to do the things that are going to help and improve our community. I don't say it will be an easy road, because this is not easy, at all. But I have to honor what my husband actually stood for, when I look at those women, I see that they did do that."
His strong character and personality are not for Nicole, alone, to draw inspiration from. Professor Scott's class was both a stage where Kojo's academic prowess could shine and his forward, sincere approach to life and learning could make a lasting impact on his fellow classmates. This is something they still will hold onto just as strongly as they do his memory.
"It's been really rough," said Ambaw, talking about getting through school, while losing his father during fall of 2007 to lung cancer and having Kojo absent during that time. "We were all really close, you know, so it was hard, I was real hopeful that he would pull through." But Ambaw still keeps Kojo within him. "I'm crawling to the finish line with graduation coming up, and I can't help but be inspired by Kojo?He left a legacy and will live through all of us."
"Kojo was like a big brother and a second professor to us all. I'm planning to write 'thank you, Kojo for all your influence' on my car when I graduate. He made me want to excel and achieve, not just pass a class," said Brignac, who also credits Kojo's honest, forward approach to writing for helping him become more open to including personal experiences in his essays.
"Because of Kojo, I was able to write about some experiences I had with my father in the final exam. He showed me that you don't have to just make it text, you can make text into reality."
Kojo's classmates said his presence was still felt and honored after he stopped attending class. They even went as far as not letting anyone sit in his seat even though he was gone.
The Pan African studies department plans to put a memorial plaque in the department to honor Kojo Diliza. They are also making efforts to start a fund and get donations to give to the Diliza family.
Nicole is glad that people outside of family and friends have seen Kojo's virtues. The fact that Kojo has touched so many lives is, to Nicole, a true testament to the man she loves.
Nicole said, "I appreciate and value that they were able to see my husband for who he is, was, and what he stands for. That is an admiration and appreciation I have, that they were able to see that. I know who he is, but I appreciate and say thanks that they were able to see that as well."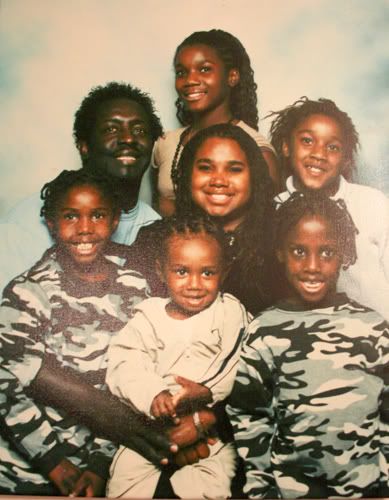 Diliza family photo. (From far left, clockwise) Zjitahj,10, Kojo, Isha, 15, Nandi, 14, Tasiim, 7, Safiir, 4 and Kojo's wife, Nicole (center).