One small step for Man-ley, one giant leap for CSUN journalism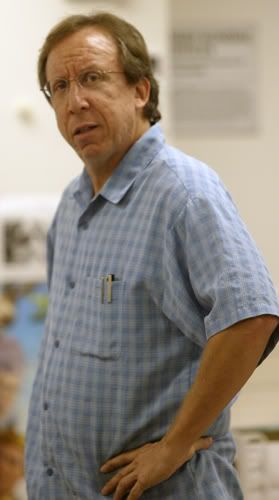 Manley Witten has been publisher of the Daily Sundial for eleven years, helping the rotating staff to produce breaking news, features, sports and investigative stories before they are released into the real world to prepare for a media job. Unfortunately, his time at CSUN will come to an end in August, when he departs for Pittsburgh with his wife. The following editors of the spring 2008 Daily Sundial want to thank Manley for putting up with extended deadlines, almost libelous mistakes and overall newsroom chaos.
You've guided me and helped me realize what it is I want to do in this profession, and I know I'm not the only student you've helped in this way. You will be missed and the Sundial will never be same, but we understand what you have to do. You deserve to have the life you want, and you will be an amazing father. Until we meet again, congratulations and good luck!
William Kammer Editor in Chief, Class of 2008
I remember the first time I stepped foot into the newsroom at the end of fall 2006. Yellow advisement sheet in hand, I was terrified of what was to come, and you only added to my fears when you asked, "So, why do you want to do this?" Now three semesters have come and gone, and looking back I can't imagine what my experience at the Sundial, or the whole journalism department for that matter, would have been like if it were not for you. I mean, who would have taught me the ways of the wheel? It is because of you that I am leaving CSUN feeling far more prepared for the real world than I would have been otherwise. It is a shame that future semesters will not get that same experience. Good luck in Pittsburg and congratulations on the little additions to your family!
Hilda Yeghishian Managing Editor, Class of 2008
As I transitioned from an over-ambitious reporter and photographer to the opinion editor, I was glad that you were there for support, advice and comic relief. You challenged me to write political opinion pieces that few others wanted to write (even if I did tend to focus on a favorite politician of mine). Overall, I don't think I would be ready to apply for journalism jobs in the real world without being in your practicum and holding a section editor position. I can only hope that the next publisher can push students to challenge themselves as you did and ask students, "What is this, a weekly?"
Tiffany Kelly Opinion Editor, Class of 2008
I would like to thank Manley for his guidance through the years. We've learned so much through our experience at the Daily Sundial due to his knowledge and ability to listen. Manley's capacity to present alternative points of view not only adds depth to story, but brings forth ethical issues that otherwise would have been unnoticed. That ability forces the reporter to view a story with unbiased eyes and discover the real issues. This unbiased view is something that too many professional journalists lack today. The ability to teach this to his students is what makes the Manley truly unique. Thank you Manley.
Daniel Williams Wire Editor
As my college professor, I was at first kind of scared of you in journalism 210. You were a newsperson at heart, tenacious, determined and not willing to take crap from sarcastic students like myself. But when I realized that you were a teacher who really cared about your job and your students, I immediately respected you. I'm leaving, and you are too, and I just want to say that my experience and education at CSUN wouldn't have been half as excellent or meaningful if you weren't a part of it. Your future students are incredibly fortunate to have you in their lives. All my best,
Alyssa A. Lofgren A'E Editor, Class of 2008
"What is this a weekly?!" I remember you would always tell me after several napping sessions at my desk. You have always kept a live atmosphere whenever you're around the newsroom and you have made everyone around you feel so comfortable with their job. Thank you so much Manley for giving me the opportunity to work with you, as you have given me the chance to make the best out of my college experience. The Daily Sundial will never be the same without you, and as I have mentioned in the last editor's meeting, it has been an absolute honor and privilege to have been around you.
P.S. I love you.
John Manalang Online Editor/Coffee Editor, Class of 2008
Graduate college, check. Publish a newspaper by 25, check. Make an impact in the lives of students for nearly 20 years, check. Professor Witten, I wish you only the best in the new chapter you are about to begin. All the thanks for showing me how to get "unconfused," tell the story and find my passion.
To Forever, Megan McFadden Spotlight Editor, Class of 2008
It is finally hitting me that I am graduating this spring. As my journey as a student ends, I have the chance to reflect upon those who have made a great impact in my life. There are few, but the ones who have I remember everyday for what they have done for me. You, my dear professor and mentor, are one of those who have kept me on my desired path. You have helped me to better myself not only as a person, but as a journalist. For gracing my life with knowledge, mentorship and words, I thank you.
All my best, Nicole Sharp Copy Editor, Class of 2008
I feel incredibly fortunate to have had the opportunity to soak in some of your wisdom from your classes and at the Sundial. It has been both fun and inspiring watching you instill a passion for journalism in your students. I have learned many things from you that will serve me for the rest of my life. I promise you will be reading me in the future. I wish you all the best as you move on to another chapter, one that will definitely be filled with love and promise.
Debby von Winckelmann Sports Editor
Hey Man, Many thanks for three great semesters at the Sundial. You have been inspiring, enlightening and entertaining, even when you were occasionally breathing down my neck. You have helped me realize how much thought we should put into making decisions so that we will make the right ones. Also, thanks for letting me show off my vocal talent, or lack thereof, and for pretty much letting us be ourselves in the newsroom. It's been good talking hometown sports with you. Go Red Sox and Celtics. Winner winner chicken dinner and Shibba Shabba!
Dennis Mahan Photo Editor, Class of 2008
When Manley sat me down in his office to tell me he would not be returning next semester as the publisher and advisor for the Daily Sundial, I felt the tears beginning to well up in my eyes. My initial goal at CSUN was to get in and get out with my degree and get on with my life, becoming an active student was far from my list of things to do. I hope every CSUN student has had the same great privilege I have had in being mentored by professors who have encouraged them to continue learning, whether it is through academia or otherwise. Manley has been one of those professors for me?He would constantly enforce the idea that journalists are "us," not "them," in class, and he pushed us to seek the truth because he knew we could be the next Nelly Bly, Robert Woodward or Edward R. Murrow if we put ourselves to the challenge.
Danielle Directo City Editor
Best wishes to you Manley. We will all miss you.