As the mother of a son nearing his 18th birthday, I am becoming increasingly concerned that our government is going to initiate a military draft to bolster the flagging forces fighting for oil in Iraq.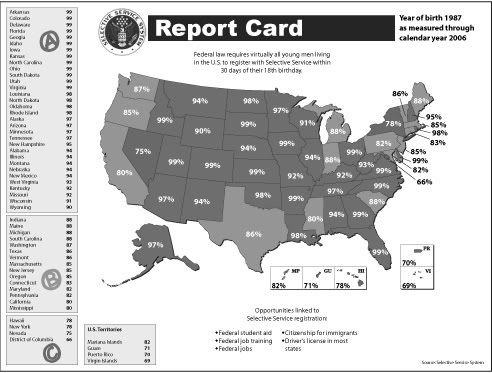 They tell us it won't happen. We tell ourselves that no one will allow it to happen, especially for such an increasingly unpopular cause. We say, "Remember Vietnam?" and hope that our military leaders and politicians really do.
And yet, for some reason, we still have the Selective Service System which requires every male U.S. citizen (and any non-citizens not here on a student or diplomatic visa) to register with the military as soon as they turn 18. The SSS has a $12 million annual budget and 139 full-time employees who have nothing to do but sign-up our boys "just in case."
Taxpayers should be proud that it is a very effective agency, having achieved a 92% success rate or greater in the majority of the states. Ever-subversive California has only an 80% rate of compliance, in part because our politicians have refused to institute a policy popular in a majority of the country that requires any male applying for a driver's license to show proof of SSS registration.
The other states with less than 80% compliance include Hawaii, New York, Nevada and Mississippi. Interestingly, the home of our nation's capital, the District of Colombia, has the lowest compliance rate at only 66%.
One professor with a son who recently passed this milestone told me that receiving the letter from the SSS was one of the most gut-wrenching experiences she has had in his lifetime. It caused a heavy-duty family discussion about escape plans (Canada, Mexico) should a draft be instituted and his number come up.
My sister's son, a CSUN freshman, also recently turned 18. They ignored the initial sign-up notice and were quite shaken to receive a follow-up a letter from the SSS informing them that should he neglect to fulfill this duty, he could be prosecuted. (Note to others considering not signing up: since 1986 there have been zero, none, nada prosecutions of eligible, non-compliant citizens even though as of 2004 more than 162,000 names of suspected non-registrants have been forwarded by the SSS to the Department of Justice).
My own son, who will start his senior year of high school this fall, wears a Support Our Troops wristband given to him by an Army recruiter that came to the Granada Hills High School campus last year. The band is black, an irony I've pointed out to him every time I see him wearing it.
So I have to say I cheered a little when I heard about the explosion at an Army recruiting center in New York City earlier this month (after I heard that no one was injured).
And I was angry that the media gave this story short shrift (probably because no one was injured) just as they have kowtowed to the Pentagon ban of pictures of fallen soldiers returning to U.S. soil in flag-draped coffins.
Our father and mothers, sons and daughters have been fighting, and dying, for more than five years now. They are dying and being injured faster than they can be replaced by volunteers.
The Army is having a hard time meeting its recruiting quotas. Standards have been lowered. New applicants are not even required to have a high school diploma. A new incentive program begun in February in selected parts of the country, is offering recruits an additional $35,000 "home ownership" bonus.
The movie "Stop Loss" being released on March 28 will likely exacerbate the problem.
To those of you who can vote in the upcoming presidential election, I suggest you ask yourself this question above all others when casting your ballot: Which candidate do you believe is most likely to issue an order to start-up the draft machine?
It could be a matter of life and death.